Lamborghini Is Forging Ahead with Forged Carbon Fiber
Thirty-five years ago, McLaren revolutionized both motorsports and the car world at large. Drawing on lessons learned from aerospace, McLaren introduced the first Formula 1 racer with a carbon-fiber-composite (CFC) tub in place of a bonded and riveted sheet-aluminum structure. The success of that venture in turn enabled the aptly named McLaren F1 sports car, which had a molded CFC monocoque serving as its passenger cabin and structural core.
Since then, the technological trickle-down has continued, drip by drip, from aircraft to race cars to supercars, and, recently, to affordable road cars. At this year's New York auto show, Toyota introduced its Prius Prime plug-in hybrid equipped with a CFC rear hatch, enabling an eight-pound weight saving over the standard stamped and spot-welded steel.
The drips reached Italy in 1983, when engineer Rosario Vizzini returned to his homeland convinced that the aircraft-manufacturing techniques he had learned at Boeing could trim mass and improve performance at Lamborghini. A CFC-intensive Countach Evoluzione prototype was constructed, followed in 1985 by the first Kevlar-reinforced body panels for the Countach Quattrovalvole. By 1990—two years before the launch of the McLaren F1—CFC had spread throughout the Lamborghini lineup. The Diablo was the first to mix CFC and steel tubing in a hybrid structural role. Today's Aventador coupe and convertible have a core structure consisting only of molded CFC.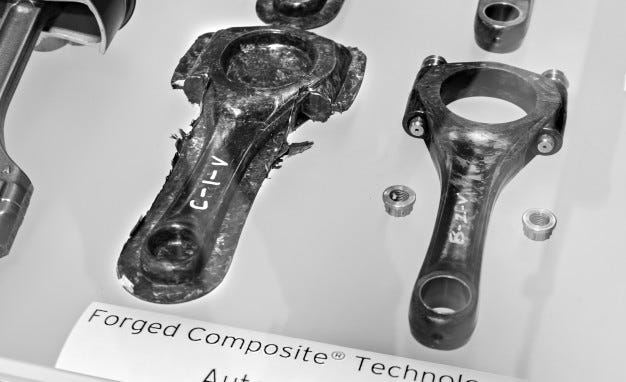 Feraboli had a better idea: eliminate the autoclave. What he and Lamborghini patented as Forged Composites (FC) technology simplified and expedited the molding process. Step one: load chopped, randomly oriented carbon fibers impregnated with resin into a two-piece steel mold. Step two: apply heat and 1200 to 1500 psi of pressure. After only three minutes, the CFC part is cured and ready for removal from the mold and trimming. It took eight years to develop this process to make the 1000 or so window frames, gussets, and rib reinforcements that go into each Boeing 787 Dreamliner. The difficult part was convincing the Federal Aviation Administration that this manufacturing method—starting with what's called chopped-carbon sheet-molding compound—is viable. Transferring it from the 787 to Lamborghinis was comparatively easy.
In 2010, at the Paris auto show, Lamborghini unveiled the Sesto Elemento concept car to showcase its FC breakthrough. The structural tub, exterior panels, and suspension control arms—80 percent of the car by weight—were made using FC methods.
Feraboli left UW in 2013 to establish Lamborghini's Advanced Composites Structural Laboratory (ACSL) in Seattle's Interbay district. This 8000-square-foot facility, currently staffed with five employees, liaises with a 60-person Advanced Composites Research Center at Lamborghini's home base in Sant'Agata Bolognese, Italy. ACSL also advances the carbon-fiber cause by performing tests for various aircraft and sports-equipment manufacturers, by conducting one- to five-day training sessions, and by housing a scale-model Lamborghini museum.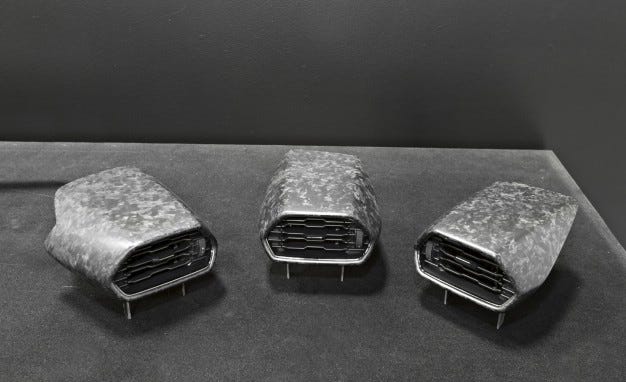 Maurizio Reggiani, Lamborghini board member responsible for R&D, calls FC tech the company's "workhorse" that eventually will serve many structural, body panel, and cosmetic trim needs. One issue he faces is marketing a different aesthetic—what looks more like marble or burl wood versus the traditional black woven fabric—to his supercar constituents. To encourage acceptance, Lamborghini is already having FC parts infiltrate production models. The first semi-structural component is a painted, removable roof panel for the Aventador convertible. FC engine bay trim is available as a $7000 option on the Huracán. An interior package consisting of four air vents, sill plates, door pulls, and center-console trim with the FC look under a gloss clear-coat soon will be offered.
The forged part of the FC name comes from the goal of replacing metal forgings in cars. While FC suspension control arms and wheels are risky because it's difficult to tell when they need to be replaced due to pothole or curb-strike injury, the ACSL has FC engine connecting rods in its showcase that may be closer to fruition. The most promising candidate delivers a 39 percent weight savings over a forged-steel design for that part.
Reggiani and Feraboli would love to see the fruits of their labors embraced by other brands both inside and outside the auto industry. Perhaps it's a coincidence that Feraboli's daily driver is a 2015 Corvette Stingray, but the next generation of that sports car seems like an ideal place to extend FC's reach. Knowing how picky the Corvette engineering team is, if Lamborghini's technology earns Chevy's approval for use in the coming $80,000 mid-engine Corvette, forged composites will have become the poster child for cost-effective weight saving.
 Via: www.caranddriver.com
---